JBT HubUP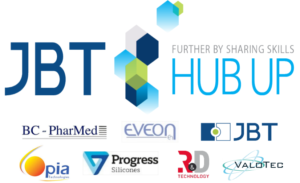 Design, integration, supply chain, pilot lines & prototypes
JBT HubUP is a company and an entrepreneurial alliance which offers the pharmaceutical and medical industry a unique solution for developing innovative medical devices by gathering all necessary professional skills from day one of a project : from design to qualification through components manufacturing and their assembly.
This alliance groups over 850 employees out of 11 worldwide production sites with over 3000 m² of clean rooms and a turnover of 100 million euros.
The development team counts over 80 engineers and technicians and 20 project managers.